Gauge: H0 Era: II & III

Prototype: DRG Class 03.10 express locomotive with streamlining. Version for the use of the United States Transportation Corps (USTC) in Germany (immediately after World War II). Paint and lettering derived from the locomotives of the Atlantic Coast Line Railroad.

Model: Locomotive comes with a digital decoder and high-efficiency propulsion. 3 axles powered. 2 traction tires. Headlights will work in conventional operation and can be controlled digitally. Additional front headlight (high beam) as well as acceleration and braking delay can be controlled digitally with the 6021 and newer Digital control units. Authentic lettering. Length over buffers 27.4 cm / 10-13/16"..

Highlights:
Locomotive has metal construction.
Large additional long distance headlight.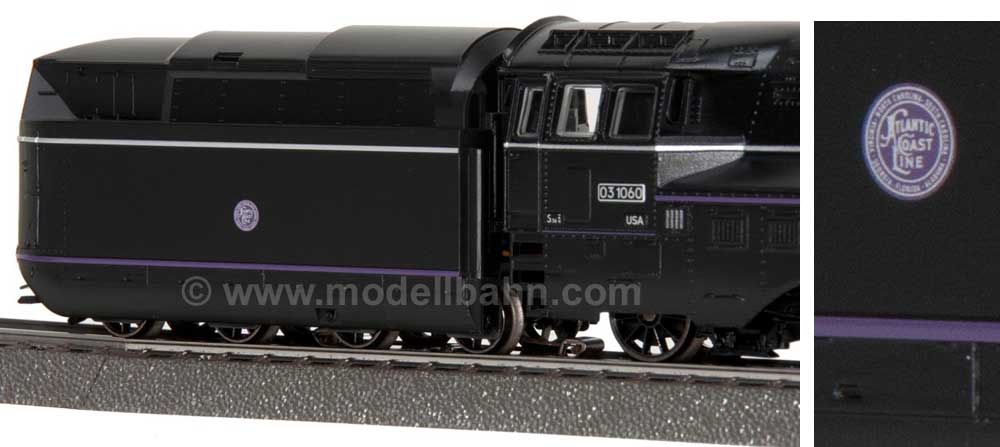 Right after World War II, American soldiers were involved in the reconstruction of the German infrastructure. The United States Transportation Corps (USTC) first had to set up arrangements for the transportation needs of the military administration. A company of railroad specialists handled the overhauling of large steam locomotives at the Henschel plant in Kassel. These soldiers were already railroaders heart and soul back home. Apparently, their superiors shared this passion, and hence one of the "new" class 03.10 express locomotives was painted in the design of an American railroad, Atlantic Coast Line. The typical high beam headlight was installed and the purple emblem of the ACL was applied on the locomotive. During the occupation period, the service trains of the USTC thus provided the impression of the great name trains along the east coast of the USA.

Additional Information: