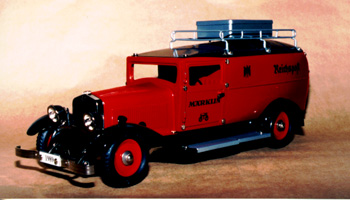 The #1995 Reichspost Truck is the most recent in Märklin's line of large clockwork trucks. It was sold through Märklin's "Insider Club"; only then-current Insider members were able to purchase the truck. (Certificates were mailed to current members, who then took their certificates to the dealer of their choice and ordered the truck. Orders were tallies and only as many trucks as were needed to fill Club members' orders were produced.)
The truck included a roof-mounted luggage rack and a metal case that includes a prepaid Deutsche Telcom telephone card. The image on the card is a replica of Märklin's 1935 catalog cover.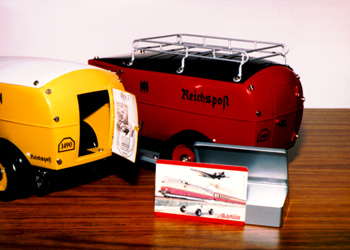 While there were a few stories about people buying the truck, removing the telephone card, and then reselling the truck (without the cards, which were apparently kept for telephone card collections), the market price of the truck has not climbed above its original retail price.